Old fashioned meet and greet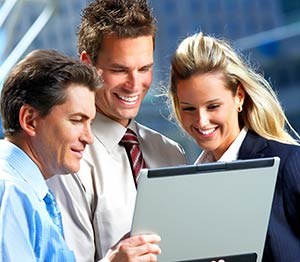 I've been out meeting business owners in the area to introduce myself and my business to the community. If you read this and have a need for our services of website design, development, logo design, or any type of visual, creative design or writing, let me know and I'll stop by.
I know business owners are usually "at work" and maybe don't get out much so I'm taking some time to get out there and offer our services to any business or professional that might be a match. Regardless of what we do, it's a "people" business first. 20 years in business has taught me that. We cater to our clients and offer memorable solutions. 
We don't work with everyone because we want to make sure it's a good match for both of us. Our preference is to build relationships with clients as opposed to just selling them services. All of our clients are unique and we love the variety. We work with people that need to promote their business, service, or product online or in print. If you have something to show or tell, we can help. Established businesses or start-ups, re-brands, re-design—we're interested. 
We provide professional website design in St. Augustine. How's your website? Are you happy with it? Does it work for you? Can people find you online? There are many types of sites and sometimes you need a better fit. We also provide consulting to help you determine the best fit in case you don't know. Don't feel bad if you don't, this stuff can be overwhelming! If you have a website and it's not doing much for you, or it needs a boost, or you just need to start over, please give us a call at 904-385-9320. 
Our clients say...
"LOVE, LOVE, LOVE"
—Amy Cohen, Owner, Inspired Perspectives, LLC, Jacksonville, FL