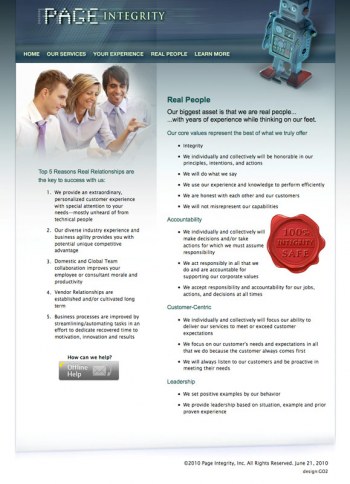 Cathleen Page and Page Integrity, Inc. are strategic partners with GO2 Media Design, and we wholeheartedly advise anyone with a need for IT prowess and network, workflow, or workspace planning and organization, to call them today. The PI site is a fast reading showcase site to give a well organized comprehensive view of services and capabilities. Like the name says, they have great integrity so you can rely on them when it counts.
We lead off on the home page with the concept that just because you need technical assistance, you don't necessarily want a robot to deliver it. There are actually IT folks that are capable of understanding the business needs and concerns you may have. In other words, a geek squad sans geeks.
We were happy to hear that this was one of eleven websites that won a Big W award for 2009.