Experion Design Group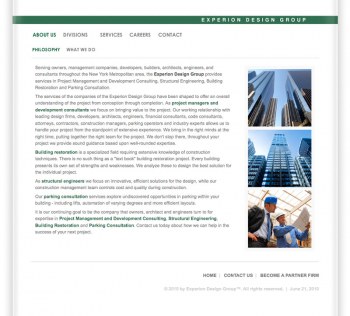 We collaborate with many people and we are sought out many times by consultants that need a reliable, expert source for website design and development and SEO. We can jump in at any stage of production and make it better.
Experion Design was in the process of putting their site online and were concerned with SEO and marketing their businesses to all audiences whether it be potential clients or employees. There were many meetings to discuss the direction of the site and eventually we covered every possible detail while continually refining the look and feel. The sight is successful in delivering the company message within the desired look and feel.
Our clients say...
"Our website has become an integral part of our business."
—Rich Greenwald, President