Five of the libraries in the Westchester Library System now have websites designed by GO2 Media Design. We have gained much experience and practical knowledge from these sites and invite any library to contact to discuss their needs from a website. GO2 Media Design has created package websites for libraries to fit a variety of needs and budgets. We can provide examples as well as references.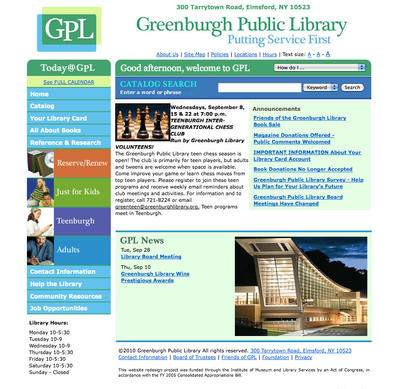 The Greenburgh Public Library chose us in 2006 to replace their their outdated, static website with a CMS site, using many improvements, bringing them into the web 2.0 arena. We created an icon and a logotype as an identity for the library.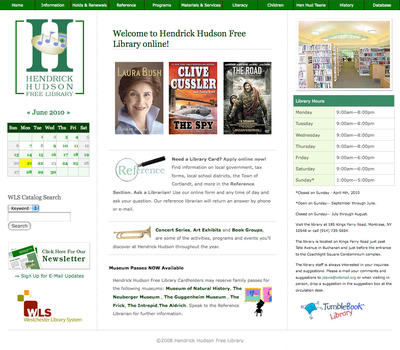 We have been working with "Hen Hud" for about 5 years now and have recently completed converting the website to a full CMS using Drupal. The site now has multiple levels of access for separate users to add and edit content.
Each librarian can contribute to their specific section in addition to the general calendar of events. Printer-friendly and e-mail forwarding of pages has been added plus all forms are now created within the application.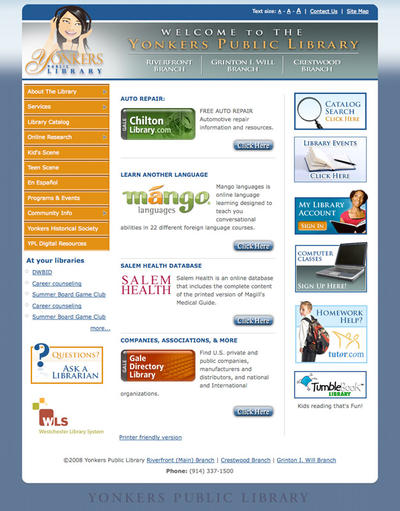 The Yonkers Public Library website was recently published after we redesigned the site with a fresh new interface and a rebuilt architecture to make it a content management system (CMS). As one of the member libraries of the Westchester Library System, they had seen how we transformed the WLS site into a user-friendly site with freshly updated content and many nice features.
YPL holds almost the same exact content as before but the delivery and presentation has been improved to current standards and should be a useful, productive site for some time to come. The structure of the site is modular like most we design and built so additions and expansion will be likely. That will be a huge benefit to the YPL and its membership.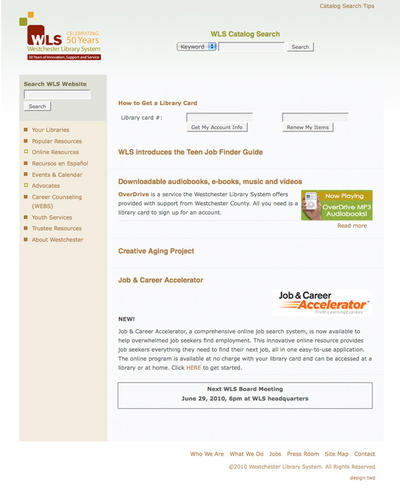 The Westchester Library System supports 38 libraries in communities throughout the county. The site is a resource that expands and changes constantly with contributions from those 38 member libraries and the WLS staff. We were given the task of building this site around a Content Management System that would support the incredible amount of information that is organized under one site.
In addition to the CMS architecture and administrative tools, and the interface design, there were five databases reassembled and integrated under the WLS branded site. Recursos is a spanish language database that was taken from a series of static HTML pages to an MySQL database and administrative control panel to ease additions and maintenance.