Portfolio
Our portfolio contains many examples of award winning website design, graphic design, and logo brand design. Navigate through these pages using the links below the images to view work in groups by category. Please page through the examples using the numbers below or skip to specific categories with the links associated with each example.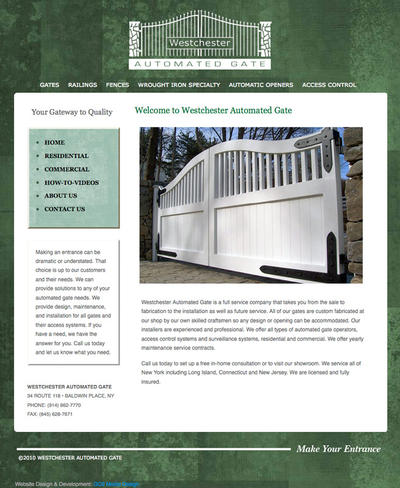 Westchester Automated Gate has a widespread presence online through its website, gatesandfences.com. We provided a Drupal CMS website to showcase the variety of gates and fences. Drupal-specific views and taxonomy were implemented to organize and present a gallery of sample images in an orderly and easy-to-navigate user experience.
SEO continues to gain top positions in search results pages.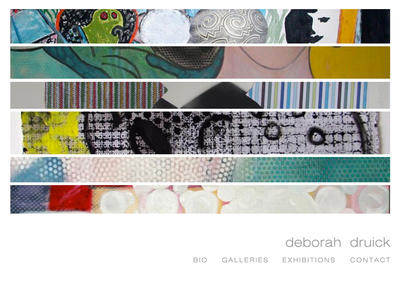 "What a cool site" That's what we thought when we were first approached to design this. When you have such incredible and interesting works of art as subject matter, the job becomes fun and the rest just follows. Simplicity in design is not always easy to obtain with many temptations to "add this" or "do that". Here is a website design that cuts through to the subject- and leaves nothing to guesswork.
The site is built on the Drupal CMS platform allowing for our client to easily add to her galleries, specifying size, date, etc., with ease. The homepage is a fun mixture of cropped versions of all the artwork on the site that creates a unique layout each time the page is refreshed. Go ahead and try it- see what you come up with for a layout.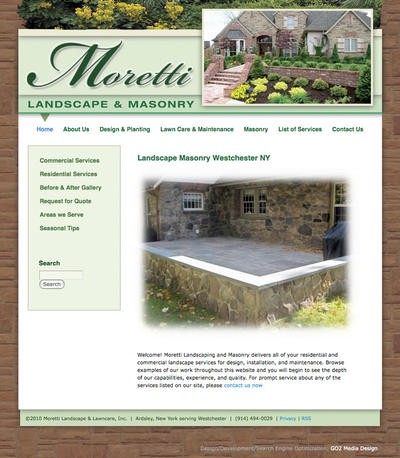 One of our most successful sites is Moretti Landscaping. Its success for us is due to the business it brings to our client. Search Google for "landscape services", or "landscape design" in Westchester and you will likely find Moretti's website, just as so many of their prospective clients have done.
When you do visit morettilandscaping.com, you will find a variety of examples of their impressive work converting property, parks, and plain old yards into fantastic landscapes using masonry, plantings, lawns, and a variety of materials.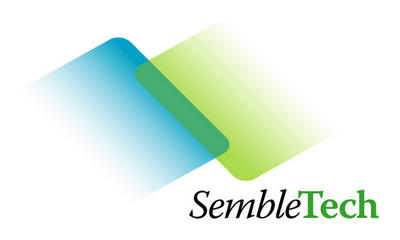 SembleTech Logo was created for a workstation service company. The service involved setting up workstations in business environments and supplying them with software applications to be updated remotely, keeping the entire package current and state-of-the-art. "Assembled Technology" was the core concept.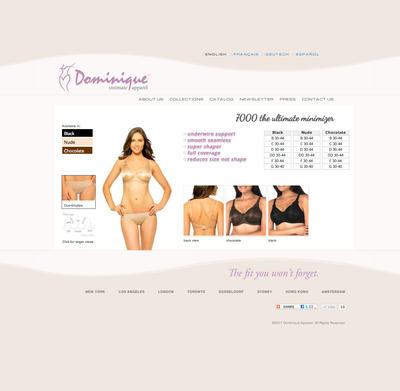 One of the most challenging sites to design is one where the content already exists in print. We designed the interface of this CMS site to accommodate our clients' varied line of garments to be universal while allowing the comprehensive array of sizes, styles, and colors.
We needed to create a unique look and keep the entire content area within a specific height. The color and design of the layout was intended to suggest a female shape without being literal or cliche. The target audience was dual purpose, mostly trade but also intended to create awareness among consumers.
Visit the site online at dominiqueapparel.com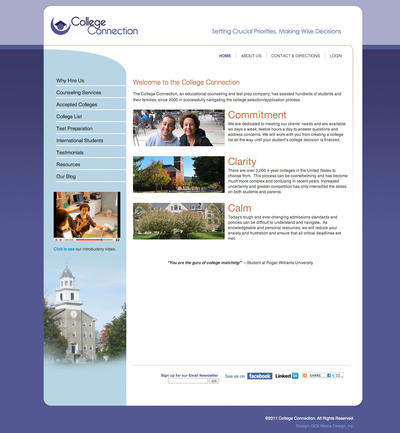 "Ask Suzan" and you'll get one of the most informative and valuable answers ever. College Connection adds further expansion to our portfolio and our own education. Here is a website that deals with test preparation, college application writing, and ultimately choosing a school that best suits the individual student. We have done our share of work with colleges and universities but this was a new angle.
Our assignment was to create a website using an existing brand, provide content management, and allow limited access to proprietary content. When their clients sign on, they are given materials to help organize and manage the process of creating an optimal list of possibilities based on many criteria. That used to be done in person in the form of printed materials. Now it has an online counterpart thanks to the incredible Drupal CMS functionality and some fundamental usability.
Video clips, photo galleries, and much more is now available for our clients to easily share with their clients and prospects.
Visit the site online at asksuzan.com