Flash animation and Actionscript, Flash's unique programming language are often used in delivering rich media content online. Most of the video seen now is most likely delivered via the Flash video format (FLV) through a typical Flash "movie" (SWF). Flash can be used in many ways and is very engaging because it produces very fluid animation. On the flipside, it can be overused and becomes annoying or done poorly. If there is animation on a web page, it is probably Flash.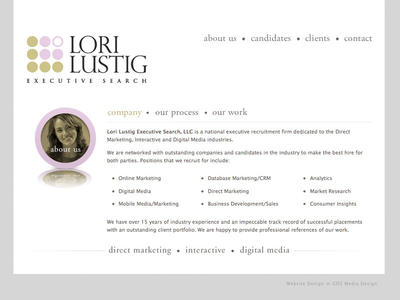 There are some websites that make fantastic examples of how less makes more impact. We worked with Lori Lustig on this site closely and it was relatively easy because she was so decisive, knowing exactly what she wanted. We are both extremely happy with the results.
This site contains examples of some very elegant Flash animation. We are of the opinion that a Flash intro should be engaging and not invite a visitor to "skip" it. We will typically argue to build the intro directly into the home page to increase usability, allowing visitors to navigate from the very first screen.
Lori's logo won a Big W Bronze award in 2008 since it was completed prior to the launch of the site, and we were honored twice with this job when the website was also awarded a Big W Silver in 2009. Visit the site online.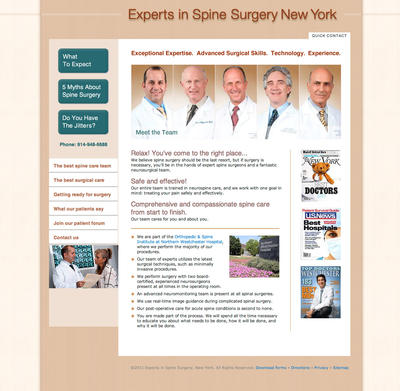 Doctors and surgeons are probably the most important people at some point in each of our lives. Anyone that has had their life changed or saved by them would attest to that. Promoting and marketing their expertise and skills is necessary as well. The look and feel for a website is critical to its success, as we like to call it, the "visual trust" created by the color and design of a website will tend to pull the visitor inward and engage them.
Some subjects such as medicine in general, already have certain colors and other design elements associated with them and in some cases also have some rather negative connotations. In the case of a surgeon, we wanted to evoke a feeling of comfort and warmth. Staying away from the usual cool blue-green, teal, aqua color families was our motivation for the palette used here. Along with the basic color, the rest of the layout and photographic elements needed to fit within that scheme without competing for attention. We welcome all challenges in color and design whether you have an established brand identity or are a new business starting up from scratch.
One unique use of this Drupal CMS website is the patient forum. See the live site at expertspinesurgeons.com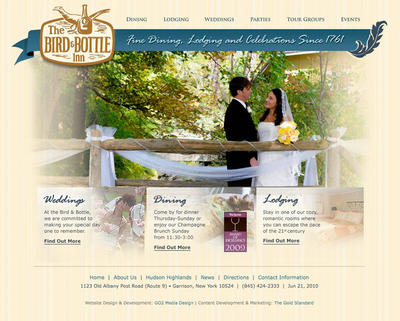 One of the Hudson Valley's well known fine dining and unique lodging experiences is now well represented in this newly released website. The Bird & Bottle Inn located in Garrison, New York is only a few miles north of northern Westchester county. Once known as Warren's Tavern, it has been there since 1761, operating in the colonial days.
Our assignment was to accurately portray the warm and welcome atmosphere visitors experience when they enter the historic inn. We provided a CMS application that allows events, press releases, menus, and other content to be added, organized, and edited simply and easily by the Bird & Bottle staff. In addition to the design and development of the site, we also provided location photography.
We worked in collaboration with The Gold Standard who provided writing, photography, and direction on overall navigation and page flow.
Visit the site online at www.thebirdandbottleinn.com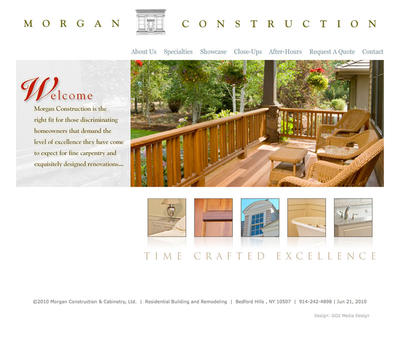 When we saw the type of work they did, we were very excited to design the website for Morgan Construction & Cabinetry, Ltd. The success of a showcase site such as this relies heavily on photography and we were fortunate to have many source images. Of course it also depends on how those images are displayed.
We often aim to design marketing support that reflect the quality or level of service that our clients provide. For Morgan, this meant we would be designing an exquisite website. We go the distance for all of our clients just as they do for theirs.
Browse the site live online.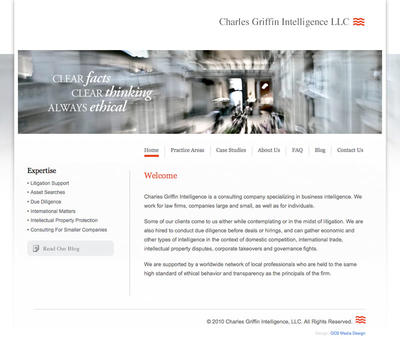 Communications are not necessarily literal when it comes to marketing and advertising. We like to call it "atmospheric" in the case of Charles Griffin Intelligence. There was a "feel" our client was attempting to evoke with photography and left it to us to put those in position and set them in motion. We were more than happy to assist.
Collaboration with our clients is important to the success of our work and we are always open to their ideas and concerns. We will act as your experts, giving you honest appraisals based on knowledge and experience. We will not shy away from a difficult critique when we feel something could be better and vice versa, we are not primadonnas and can take direction.
This "Website in a Day" began as one of our Smart Site products and played out very well for our client. Once the initial site was built and online, we were called back to improve upon the styling. That is the scenario we envision for some of you- need for a very professional site, and then build onto it as the business grows and budgets allow or needs dictate. Our client had their content ready to go, and we literally built out a CMS site in 24 hours.