"What website is not a showcase", you might ask? We design and build all types of websites but the ones we call showcase sites are primarily solid business websites that have a typical group of pages and then a section or two that display their product and/or services. These are not e-commerce sites, nor are they catalog sites. They very simply and directly "showcase" their offerings and include information about the company and contact information.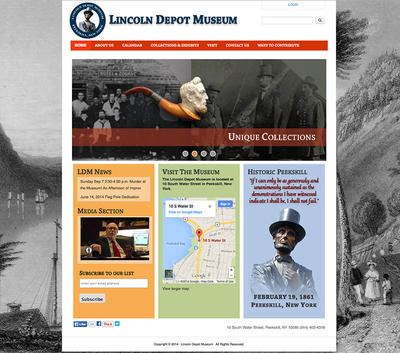 We provide consulting for website development on any scale. Whether you have an existing site that needs reworking or replacing, or you are just specifying your needs, we can provide our experience.
Look at this site on your phone, a tablet, and then a desktop computer to see how it transforms to each of those screens. One site will look great on any device automatically.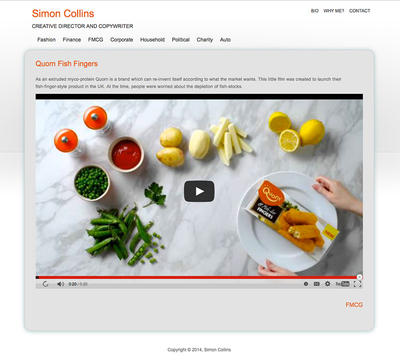 This site is a redevelopment of an older, Flash-heavy site that we redesigned as a Drupal 7 Responsive site. This change alliowed visitors to view on mobile devices and tablets but also allowed the owner to created and edit content through the customized Drupal 7 user interface. Our client has a variety of excellent print, online, and video work to display.
Look at this site on your phone, a tablet, and then a desktop computer to see how it transforms to each of those screens. One site will look great on any device automatically.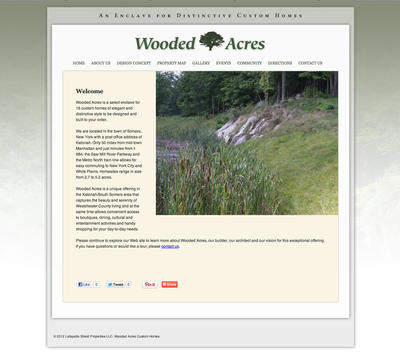 How do you sell homesites online? Many beautiful photos. Wooded Acres Custom Homes website showcases a beautiful, new 16-lot subdivision in Westchester county. Simplicity is the key to this new online presence. Browse the website, you will see what we mean.
This site is built on Drupal 7 with a custom theme with heavy use of Views and Views Slideshow.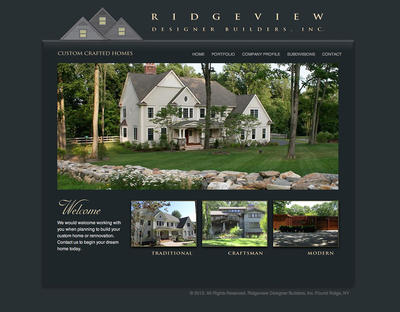 Websites give businesses the advantage of showing what they do to the rest of the world. Many photos of their work make Ridgeview Designer Builders' website a fantastic showcase of craftsmanship and design. Most of us would love to inhabit any of the houses they build. Browse the website, you will be impressed.
This site is built on Drupal 7 with a custom theme with heavy use of Views and Views Slideshow.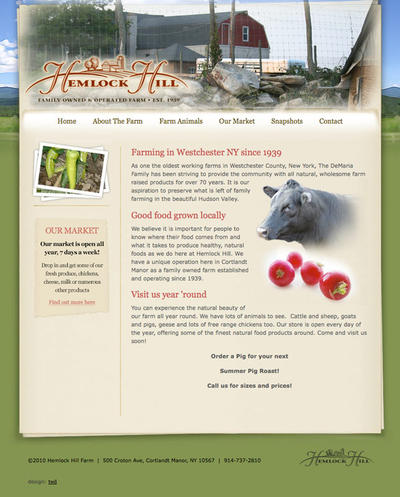 Hemlock Hill Farm came to us for a website they could keep current and update themselves. We said, "Drupal". We say that a lot these days and why not, it is the absolute best open source CMS we've seen.
What we have mastered is theming each Drupal website we design and build with a unique look and feel. We have built many of these CMS sites in 2008 and 2009 and plan to continue. In addition to global support and the Drupal community, we have clients that tell us how much they love it, and how simple it is to edit and add to their websites.
This site was awarded a Gold Big W from the Advertising Club of Westchester in 2009, it is one of our best sites. It's no coincidence our principal "GO2" guy was an agriculture student back in the day. Our client tells us that, "the website has changed the way we do business". We can listen to compliments like that 'til the cows come home...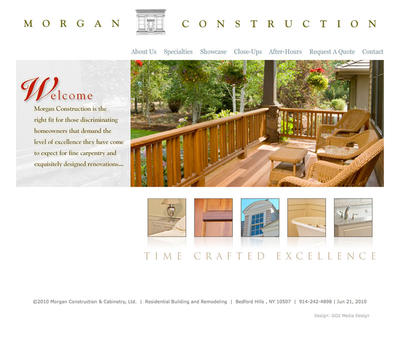 When we saw the type of work they did, we were very excited to design the website for Morgan Construction & Cabinetry, Ltd. The success of a showcase site such as this relies heavily on photography and we were fortunate to have many source images. Of course it also depends on how those images are displayed.
We often aim to design marketing support that reflect the quality or level of service that our clients provide. For Morgan, this meant we would be designing an exquisite website. We go the distance for all of our clients just as they do for theirs.
We redesigned again recently in 2015 as a responsive site.
Browse the site live online.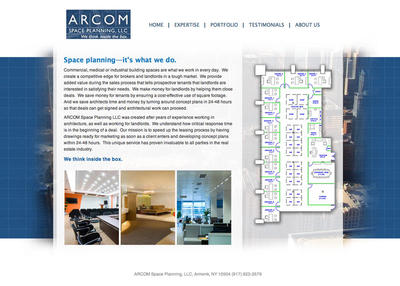 We have many interesting clients and learn more all the time. Patti Bancone of ARCOM came to us by way of The Gold Standard, a strategic partner of ours, and the results are fantastic.
The site is visually rich but clean and consistent. What else would you expect for a space planning expert? It is an ongoing challenge to portray the level of expertise and committment from a company through a two dimensional website.
The portfolio page is a highlight with expanded use of Lightbox to allow close-up views of plans.
Visit the site at www.ArcomSpacePlanning.com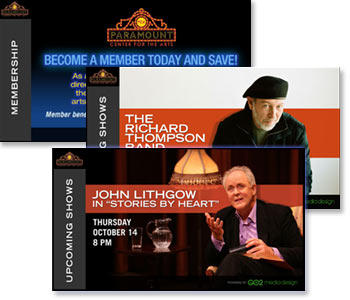 Our good neighbors, The Paramount Center for The Arts, have an incredible amount of talent coming through their doors each month. We created the layout, programming, and method of delivery behind their lobby display screen. It keeps patrons informed of upcoming shows, fundraising events, and film series.
We were happy to create this ongoing stream of animated slides as an alternative to a sinlge local file on one of their in-house systems that had to be overwritten each time there was a change, we devised a way of delivering this to their screen via the Internet. All updates are made remotely which makes for a very efficient operation. If you are looking for some innovative advertising, motion graphics, or both, please let us know, we love a good challenge.
You can actually see this online: Paramount Lobby Display You can click on the browser screen on your computer to see it expand to full screen. It is formatted for a specific display size so it may look a bit fuzzy if those proportions don't match.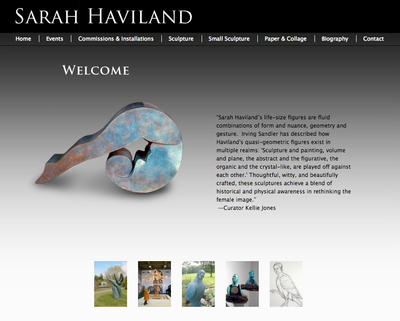 New York artist and sculptor, Sarah Haviland's website is focused on the artist and her work.
"Artistic" websites are a bit different than a typical business website since it is a showcase that needs to reflect the artistic sensibilities of the artist. We see this as an advantage when working with us since our roots do reach down to the fine arts, and we offer a well rounded, aesthetic approach. You won't find that from many commercial website design firms.
A dramatic homepage is the opening scene in this website. From there, you can easily navigate through several galleries of sculpture, drawings, and installations.
Sarah has the power of Drupal® behind her website- a CMS application that allows her to upload, manage, and categorize her work exactly as she wishes. Most artists we know are quite capable technically, but even for those that may not be so inclined, a Drupal CMS website allows them to keep their site current. Search engines love that too.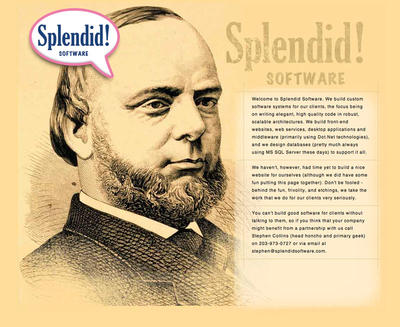 Ripe from the vine, this one's a funny one... until you read a bit deeper. Splendid Software is a lovely name for a very hardcore company of programmers and strategic thinkers. We know first hand, we work with Splendid Software and JKS regularly. They are fun which is always welcome but also dependable, reliable, and really really good.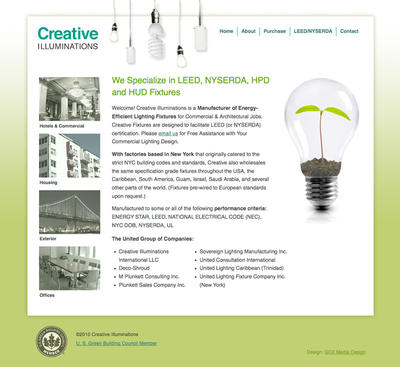 Creative Illuminations is a supplier of lighting fixtures. Our assignment was to build a basic business site that would be found in search engine results. We were also given the task of making it unique and stylish. We feel it's a bright spot in our portfolio.