We're not just green friendly, we're married to green. Catalog websites reduce the need for paper. Reprint 20,000 catalogs? No way- Deliver them by trucks with big bad carbon footprints? No way- Add item after item and deliver online to the entire world in seconds... yes, oh yes... now that is about as green as it gets. Feel good about your catalog in a whole new way. Oh, and if someone really needs to print some pages? Well, that's their footprint- not yours. (Maybe suggest print on used paper???) ;-)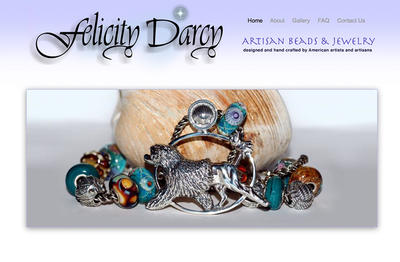 Sometimes the subject matter of a site is the predominant look of the site and sets the style. Felicity Darcy is a website that is elegantly simple, letting the glimmering, shimmering silver and glass jewelry stand out. This Drupal 7 E-Commerce began taking orders the day it was published and we were thrilled to see it happening. Take your business online and show it to the world. Ask us how.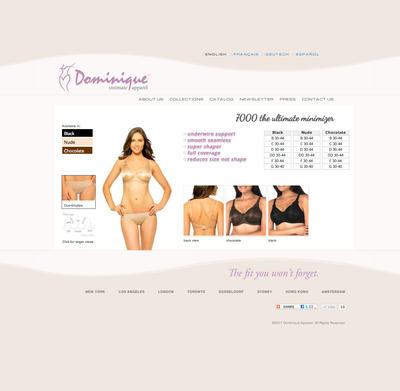 One of the most challenging sites to design is one where the content already exists in print. We designed the interface of this CMS site to accommodate our clients' varied line of garments to be universal while allowing the comprehensive array of sizes, styles, and colors.
We needed to create a unique look and keep the entire content area within a specific height. The color and design of the layout was intended to suggest a female shape without being literal or cliche. The target audience was dual purpose, mostly trade but also intended to create awareness among consumers.
Visit the site online at dominiqueapparel.com
Knowing Science is a new science curriculum for Pre-Kindergarten through Second grade students. Designed for the classroom or homeschooling scenarios.
We had the great fortune of being selected to develop illustrations and the eventual website for this new science curriculum that teaches science standards at the earliest levels of education. We love science and technology and we're all for better education for everyone, a win-win situation.
The site uses Drupal CMS to provide flexible content creation, editing, and management. The e-commerce engine is provided by Ubercart, which we feel is one of the most streamlined and efficient shopping cart experiences. The look and feel of the site was intended to be clean and uncluttered leaving focus directly on the subject and not the site itself.
Visit the site online at knowingscience.com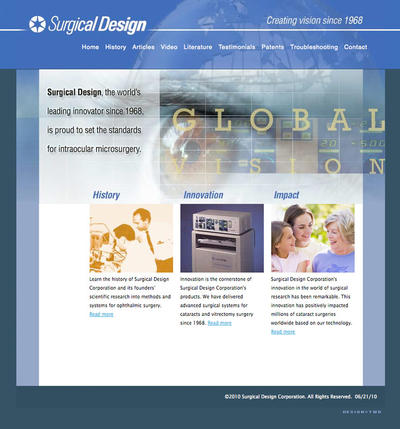 Surgical Design is reaching out to a global marketplace providing advanced surgical systems for cataracts and vitrectomy surgery since 1968.
We wanted to create a site that reflected their existing marketing collateral consisting of sell sheets and brochures. It is very technical in nature so we wanted to present it in a way that was easy to navigate, easy to read, and visually stimulating. The site contains an online troubleshooting guide added recently providing valuable information to their client base where they previously had to send out paper versions by mail.
The Surgical Design website was awarded a Big W from the Advertising Club of Westchester in 2009 for Interactive Media: Business to Business website.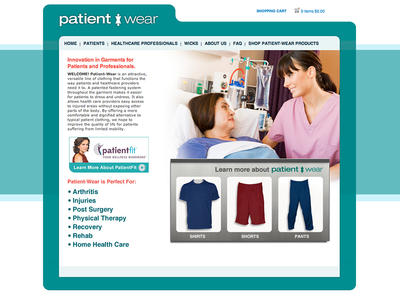 Patient Wear provides innovative garments for patients with limited range of motion and other conditions requiring partial removal.
A Drupal framework supports the presentation and e-commerce allowing visitors to learn about and purchase these incredible garments.
Visit the site online at www.patient-wear.com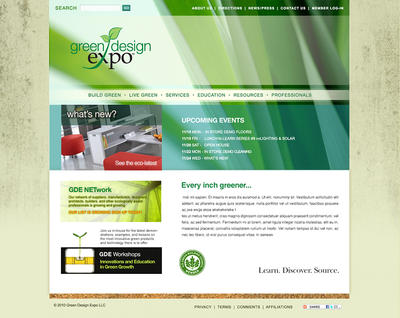 Green Design Expo LLC is a sign of the times. For people that want to find the latest, best, and most effective solutions for green living and green building, GDE is a fantastic resource. We are definitely fans of alternative energy sources and through companies like GDE, realize how beautiful some of the green products can be. There is a great fusion of design, practicality, and consideration for the materials used.
The site is a Drupal site, of course- most of our sites now are Drupal CMS. We built in a custom region for the home page to display upcoming events that are mostly hosted in the store and occasional lectures or demonstrations in the community. We have put an E-News function in place allowing GDE staff to send out announcements easily through their site. There will be much information coming from this site so RSS feeds will serve them well as most of the staff will be blogging for the site.
The theme is actually built using actual transparent PNG files, layered to create the incredible depth of color and feeling of space. The website does achieve the primary goal, portraying the store quite accurately, as was the wish of our client. The intent was to present the company's services and products in a contemporary and intelligent light.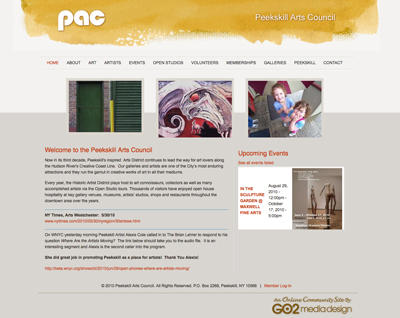 We relaunched the PAC website in the spring of 2010 after two years with one of our very first Drupal® CMS websites. In the 24+ months from the initial launch, we had learned so much, and had developed so many custom applications, we had to bring the site up to date and give those members a great new profile page in which they could publish their own bio's, upload images and have the site resize automatically, and also post their own events.
We are quite pleased with the result and have since realized how many other arts organizations could benefit from a website similar to this one. Our Online Community Sites were created to give those organizations, clubs, and galleries, an incredible Content Management System (CMS) that allows them to provide individual artist profile pages, lists of artists on the site, and even taxonomy to categorize by medium. There is also the ability to keep memberships counted and paid for with additional e-commerce. We have an affordable entry-level package if you are an organization and are interested in offering something incredible to your members with a way to generate revenue.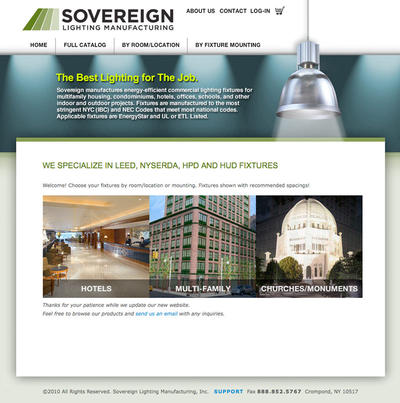 Sovereign Lighting Manufacturing presented another unique challenge and allowed us to stretch our wings once more.
We built a catalog site that was also e-commerce but for industry trade clients only. We have built out their catalog product listing with comprehensive taxonomy and taken full advantage of Drupal's multi-level access controls to allow Sovereign's staff to see their own internal specs when viewing their inventory, and clients see only the specs they need to order.
We loved the opportunity to make another industrial site look as sexy as possible with much visual punch and to establish a trustworthy presence online for the company.