We searched for years to bring our clients an e-commerce solution that was a part of their website. Not a shopping cart that "sort of looked like" their website, but a truly integrated, seamless transition e-commerce website that had the best usability, easy check out sequence, and an elegant and comprehensive back end administrative section that felt like home. We now use Drupal and Ubercart exclusively to bring our online retail clients all of that and more. We would love to show you how good it can be, just call us and ask.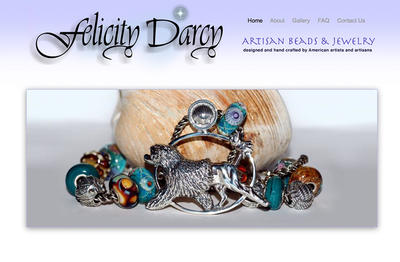 Sometimes the subject matter of a site is the predominant look of the site and sets the style. Felicity Darcy is a website that is elegantly simple, letting the glimmering, shimmering silver and glass jewelry stand out. This Drupal 7 E-Commerce began taking orders the day it was published and we were thrilled to see it happening. Take your business online and show it to the world. Ask us how.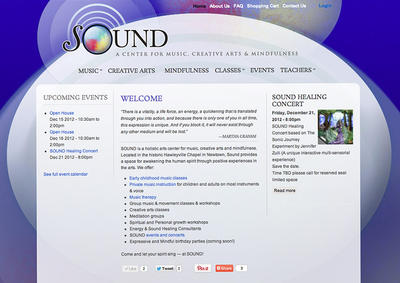 SOUND is a website that will grow on you. Organic looking, easy to navigate, and loaded with interesting bits of content—this site is one of our finest e-commerce websites. We look forward to watching the site grow along with this new business. If you love the arts, you should check this out. Browse the site here.
Knowing Science is a new science curriculum for Pre-Kindergarten through Second grade students. Designed for the classroom or homeschooling scenarios.
We had the great fortune of being selected to develop illustrations and the eventual website for this new science curriculum that teaches science standards at the earliest levels of education. We love science and technology and we're all for better education for everyone, a win-win situation.
The site uses Drupal CMS to provide flexible content creation, editing, and management. The e-commerce engine is provided by Ubercart, which we feel is one of the most streamlined and efficient shopping cart experiences. The look and feel of the site was intended to be clean and uncluttered leaving focus directly on the subject and not the site itself.
Visit the site online at knowingscience.com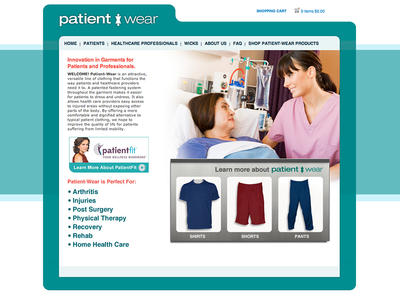 Patient Wear provides innovative garments for patients with limited range of motion and other conditions requiring partial removal.
A Drupal framework supports the presentation and e-commerce allowing visitors to learn about and purchase these incredible garments.
Visit the site online at www.patient-wear.com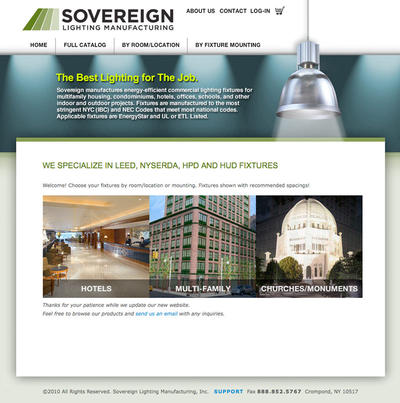 Sovereign Lighting Manufacturing presented another unique challenge and allowed us to stretch our wings once more.
We built a catalog site that was also e-commerce but for industry trade clients only. We have built out their catalog product listing with comprehensive taxonomy and taken full advantage of Drupal's multi-level access controls to allow Sovereign's staff to see their own internal specs when viewing their inventory, and clients see only the specs they need to order.
We loved the opportunity to make another industrial site look as sexy as possible with much visual punch and to establish a trustworthy presence online for the company.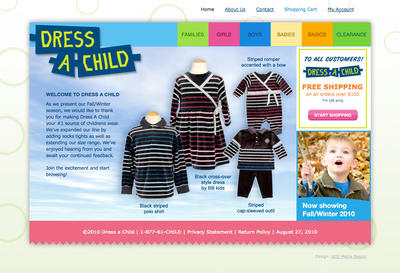 Through a strategic partnership with Eurokids, we created a website for an e-commerce start-up business selling children's clothing and accessories. Dress A Child is an online presence that is supported by a print catalog in addition to SEO. The site went online in early February, 2010 and began taking orders immediately.
The site is built on Drupal 6.x using Ubercart as a comprehensive E-commerce solution and PayPal as the integrated gateway and merchant bank. Dress A Child utilizes many of the features within the online store including product attributes to offer size and style variations and discount coupons.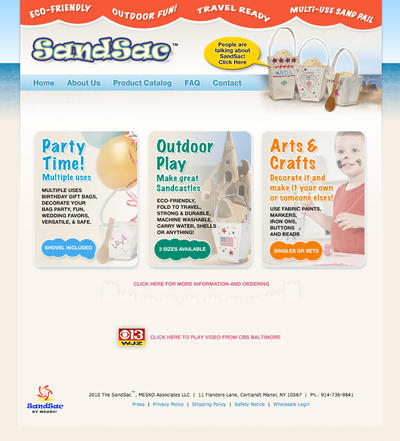 We were called upon by Mesko Associates, LLC., to design a package wrapper for their popular SandSac® sand pail and to create a website for the product.
We produced a CMS website and created a simple method of e-commerce using PayPal. The site is a showcase for the eco-friendly and fun, multi-use canvas pail showing video clips, and allowing visitors to purchase SandSac online.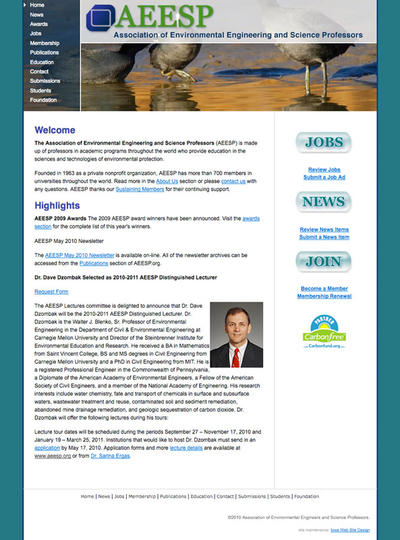 We learn on the job every day. We often take on subjects we are not completely familiar with so we have to learn fast in order to present them effectively. In 2005, we were asked to redesign the AEESP website, mainly to provide a look and feel and develop style sheets. Our successful redesign now brings close to 400 visitors a day from around the world.
Our most recent addition was to retrofit a CMS so the membership may post articles, jobs, and news directly to the site, pay online, and give one central admin control over the entire flow. The editing capabilities are simple, direct, and most clients find it rather easy to use. The ability to edit and manage content tends to make the site more current, and that makes the site more attractive to search engines.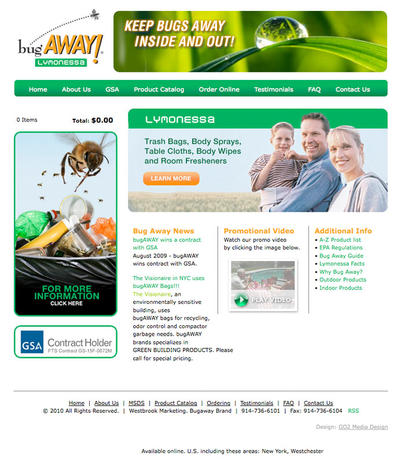 The majority of websites out there online are simply to bring awareness to the marketplace. That is step one, get online. Step two may by design the best looking, most user-friendly visitor experience possible.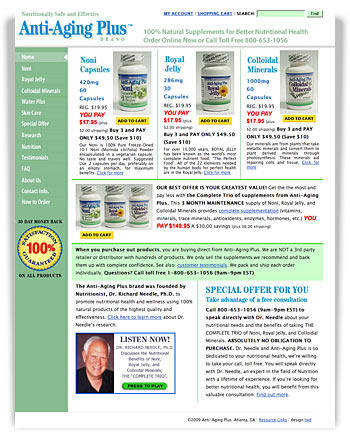 We have taken Anti-Aging Plus from a very basic, mom-n-pop type look and feel, and transformed it over time into a professional looking, online retail website. We have been working closely with the owners since 2003 and have been able to offer many services in addition to designing their website and providing SEO and SEM.
We branded their company with the current logotype and packaging style and have delivered various marketing elements such as trade show banners, cards, and labeling for each product. We are always happy when we are able to offer our experience in marketing and advertising on multiple levels.